Industrial Warehouse Fans
Serco Industrial HVLS Fan
Serco Industrial HVLS fans are meant to move a lot of air, but they do much more than that. With an airfoil style five-blade design, these high-volume low-speed fans work hard to circulate efficiency and positively impact many factors within your facility. They balance the internal environment with a gentle mass of air or "floor jet," which creates a more even temperature to protect product integrity and prevent potential product spoilage. Additionally, your employees will enjoy a more comfortable working environment, your products will maintain a steady temperature and moisture will be reduced in the air, keeping your floors drier and safer.

Smart Design Advantages
Patent-pending five-blade design optimizes airflow by increasing lift off of the blade surface
Remote digital touchscreen offers floor-level diagnostics
Single-axis mount decreases potential fan movement
Easily integrates with fire suppression panels and iFAN® centralized control
In the colder months, HVLS ceiling fans can be run in reverse to circulate hot air that becomes trapped at the ceiling level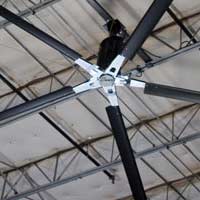 iFAN® HVLS Fan Control
Get the most out of your HVLS fans with the next generation of fan control — iFAN®. This centralized system allows you maximize the benefit of your large fans by enabling centralized HVLS fan control. With the graphic interface of iFAN®, you can pinpoint exactly where fans are located within your facility, aiding in troubleshooting efforts, clarifying facility layout and improving group fan control. You can also easily make real-time adjustments and measure key performance statistics. With the iFAN® system, you'll have the ability to network up to 30 fans per standard configuration, while controlling each of them individually. It's the simplest way to cut down on energy costs, while efficiently maintaining the temperature level of your warehouse.

Smart Design Advantages:
Integrated system allows you to network up to 30 large fans per standard configuration
IZone settings can address the unique operational and environmental conditions within separate areas of your facility
IMonitor and control fans by time settings, temperature settings or temperature variance
IMake adjustments on the fly with iFAN®'s touchscreen graphic display
IA separate PLC control panel provides the option to connect fans with a building's fire control system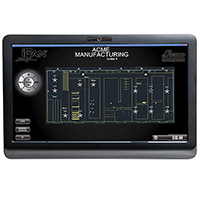 Does your business need overhead door solutions?
McKee Door offers all of our customers the best in commercial garage door service and installation. Whether you need a new overhead door installation or repair and maintenance, we have you covered! Contact us now.
Contact us now for emergency 24 hour commercial garage door repair and maintenance
Contact us if you need brand new commercial garage door solutions, sales and installation